Empowering Businesses Online Since 2004.
Welcome to
SEO Expert Gold Coast
A Gold Coast Owned and Operated Business
Wasting time and money struggling to reach page 1? Can't find a SEO service that can actually deliver tangible results? You're not alone, these are the number 1 complaints we hear from business owners before experiencing our true service.
SEO Expert Gold Coast are a team of local experts with over 16 years experience delivering Award Winning – World Class Digital Marketing services throughout the Gold Coast, Australia and Internationally.
We provide business owners relief from the stress that comes with advertising a business so they can focus on what they love and do best. Combining exceptional results, value and customer support.
We take great satisfaction in your success, it's why we're in the business. Get in contact with us today and start your journey.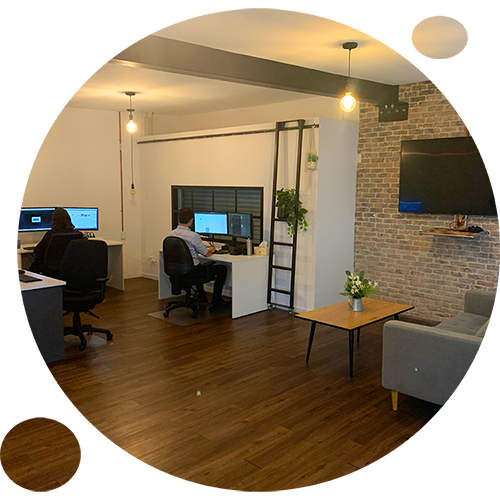 What's your websites conversion rate? The average website conversion rate is just 2.35% while the top-performing websites have an 11.45% conversion rate! Don't know how your business stacks up? Request your free Digital Marketing Report.
Meet Your

Team of Experts
Your team of experts are talented and creative problem solvers, dedicated, methodical, hard working and competitive!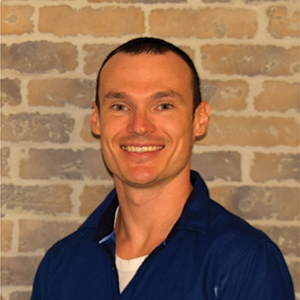 Digital Marketing manager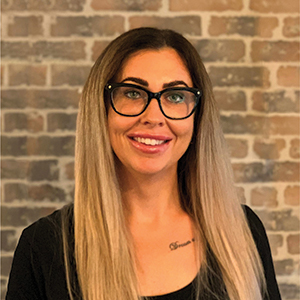 Content Marketing manager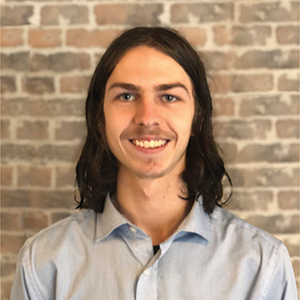 Digital Marketing Specialist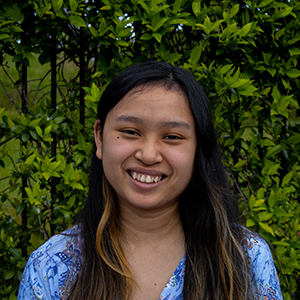 Digital Marketing Specialist
Why We're

The Gold Coast's Favorite

SEO Service
Only deal with me from your first consultation right through to your page 1 rank 1 position.
100% Success rate achieving page 1 rankings on Google.
16+ Years' experience performing Search Engine Optimisation in a wide range of industries.
Award Winning 5 Star Service
5 Star Rated and Awarded as a top SEO Service by Clutch in 2020.
World class agency value for a fraction of the cost.
100% Australian Search Engine Optimisation (nothing is outsourced).
Your own personal account manager you can speak to at any time Monday to Sunday.
Deal with a real SEO Expert on the Gold Coast who understands business and knows the market.
Every week you're not performing SEO, your competitors are edging further ahead of you. Every week you invest in inferior SEO, you're not only losing time and money, you're losing customers. Stop wasting time and money, missing out on lost opportunity and get started today.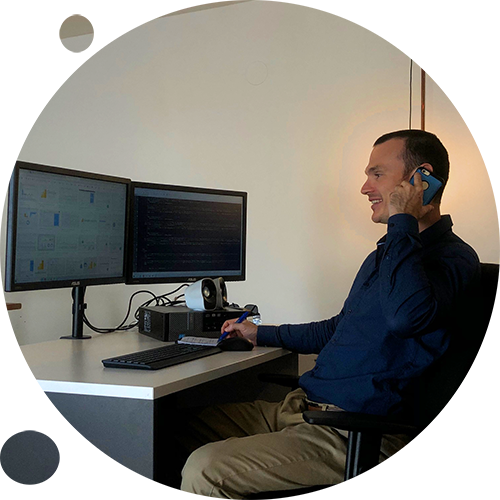 About

SEO Expert Gold Coast
Our mission is to empower small and medium businesses to succeed online and grow through quality Search Engine Optimisation and Digital Marketing services.
Our vision is to see business owners transform their businesses into the dream business they envision it to be.
Why We're
The Gold Coast's Favorite SEO

Service!
Did you know? The average time a visitor spends on a business website is 2-3 minutes, visiting on average 2.17 pages per session. Find out how effective your website is performing with a free Digital Marketing Report.
Introducing

The Best SEO Services

for Business
World Class Full Service Digital Marketing Agency Specialising In SEO
We compete daily with local, national and international SEO agencies to deliver rank 1 results. If you want the best rankings you need to select the best agency. We believe SEO delivers the greatest return on your marketing budget and is the foundation of every good Digital Marketing Campaign, we don't just specialise in SEO we are a full service Digital Marketing Agency who can help you with everything from your domain name, web hosting, emails, social media, strategy and much more.
Our

Simple 4 Step Process

To Launch Your Business
Proprietary Methods, Cutting Edge Technology, Advanced Strategies

Call or enquire online to start. Our team will review your website and SEO position then discuss these details over a phone call or an in person meeting.

We provide a manual comprehensive report like none you've seen before. Unparalleled insights into your website, business, competitors and market.

Visit us for a meeting to review your Digital Marketing Report, have a coffee and meet the expert team working on your project!

We action the plan optimising your website, writing content and building high quality backlinks to your website.
Proprietary TECHNIQUES, Cutting Edge technology, Advanced STRATEGY
I have a passion for the SEO process and over the last 16 years I've designed, developed and proven a tried and tested SEO system which has successfully ranked hundreds of websites against the most successful agencies in Australia. I have trained SEO Companies and Consultants throughout the Gold Coast and Brisbane to effectively use this system to deliver results to their clients.  This unique system delivers reliability, quality, results and detail. It's a complicated system we've simplified into and effective 4 stage process. Through that process I will understand your goals, deliver results, grow and maintain those results. We use proprietary original strategies you won't find elsewhere, if you copy your competition you will just be another "me to" business never getting ahead or beat your competition.
We Work With

All Major Platforms
Success Stories
What Our Clients Say
We are so grateful to Justin for what he has done for our business. We trusted the advice that he gave and followed his instructions after circumstances saw our business almost collapse and work very few and far between. Over the following months Justin was extremely helpful and thorough and did everything that was promised and more. He worked within the budget that we gave him and delivered the outcome within the time frame promised. He has provided a full service across a number of areas that we required and we couldn't be happier. Web site design, set up and maintenance, exceptional skill in SEO and management of our google ads and other third party listings as well as assisted with facebook business page issues and all the other things that we don't understand but are integral parts of running a business these days. He always gets back to us when we need him. Thanks so much Justin! We look forward to continuing to move onwards and upwards with you.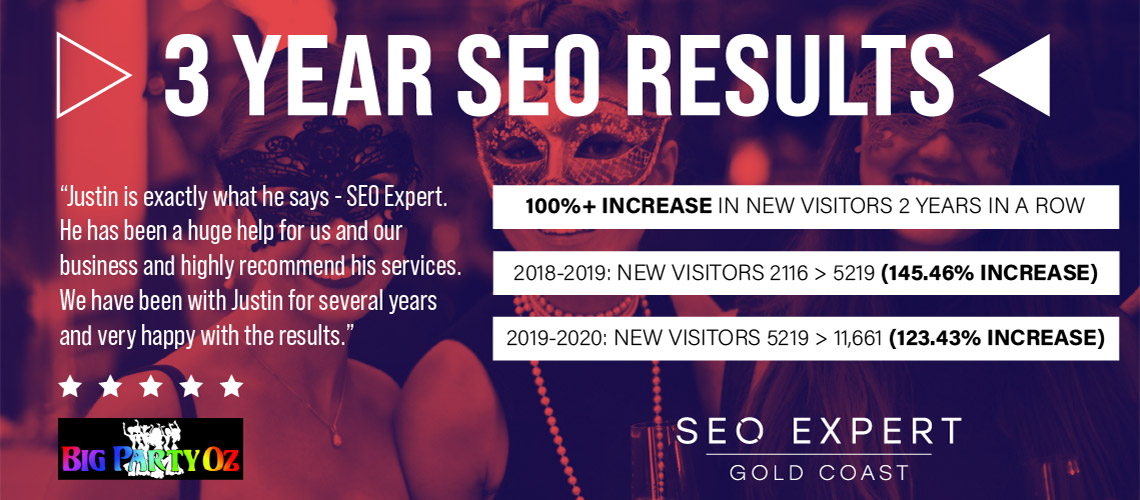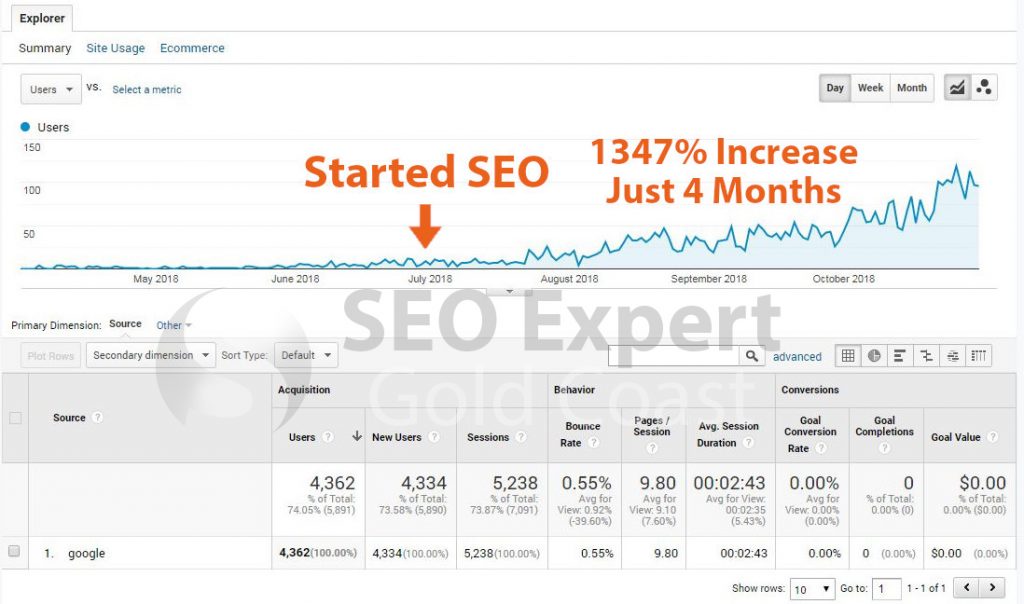 Gold Coast

Search Engine Optimisation
Within just 4 months our team delivered Big Party Oz rank 1 positions for both primary keywords (the most searched terms on the Gold Coast).
'Costumes Gold Coast' – Rank 1
'Costume Shop Gold Coast' – Rank 1
The results? A 1347.65% increase in new visitors to the website. From 149 in June to 2157 in October.
Paid ads received 9.48% of clicks compared to Organic search results 90.52% – SEO generates 10x as many clicks as Paid Ads. Find out what your market share is today with a free Digital Marketing Report.
An SEO Company You'll Never Want To Leave
Expect to look no further. You've found the most experienced and qualified SEO on the Gold Coast. You won't find a higher quality or greater value SEO service that actually delivers real page 1 results driving new customers to your business.
The most significant and important difference between me and all the other so called "SEO Consultants" out there is that I legitimately hold tertiary qualifications in Business, Marketing and Information Technology paired with 16 years of experience I am capable of outperforming my competitors.
Using natural and ethical SEO methods my clients have maintained page 1 rankings for not months but years. I have had the pleasure of watching their businesses grow significantly, improve their lifestyle and put more staff on.
I have a very straight forward and honest approach to SEO educating and informing my clients of everything they want to know throughout the process. I don't cut corners or take short cuts, I deliver results through honest hard work.
Our 7 Part Agreement

With You
Gold Coast Based

- Global EXPERIENCE
Experts in Local, National and International SEO
Just because we're based on the Gold Coast, doesn't mean we think small. Small, Medium Large, Local, National and International Clients.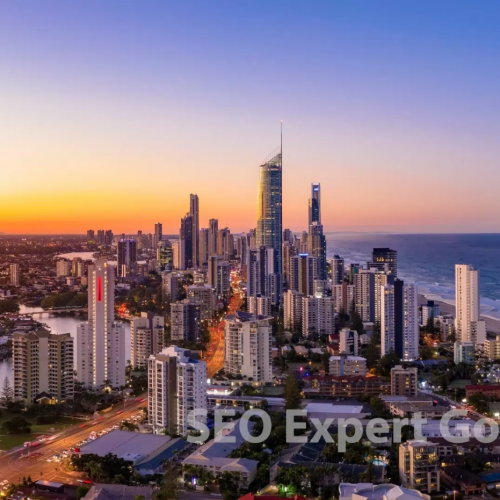 The Gold Coast's

Best SEO Programs
Leading Proprietary SEO Systems We've Engineered and Competitors have imitated Since 2004!
Our Search Engine Optimisation programs are packaged to suit your business – industry, competition, marketing budget and goals. Depending on how fast you'd like to reach your goals. The more you invest – the more time we can spend optimising your website, the faster and greater the results will be. Our programs will get you to the first page of Google. For example Business A selecting the standard program might take 4 months to get to the first page, where Business B selecting the Advanced program gets there in 2. If you're not already on page one, the ranking phase is all about catching up to your competitors and then outranking them (basically doing a better job than they have). Remember they've already done SEO that's why they are on page 1. Now you need to invest the time and money hiring someone better than they did, this is why so many amateur SEO's fail to deliver results to their clients. They simply aren't better than their competitors.
Contact
SEO Expert Gold Coast
Please use our contact form to request your consultation and SEO analysis , we'll be in touch with you shortly!
Please note our SEO Service is not for all businesses. We select clients we work with carefully, using fair and reasonable criteria. By limiting the number of clients we work with at any given time to ensure 100% attention to achieving results.
Our service is ideal for:
Legitimate Businesses
Startups
Australian Based Businesses
We do not work with:
Adult Material
Get Rich Quick Schemes
Illegal Businesses or Scams
Outsourcing Companies
Multi-Level Marketing
That's all there is to it! Those are our requirements.
Stop losing ground to your competitors – contact us for your complementary obligation free report and consultation.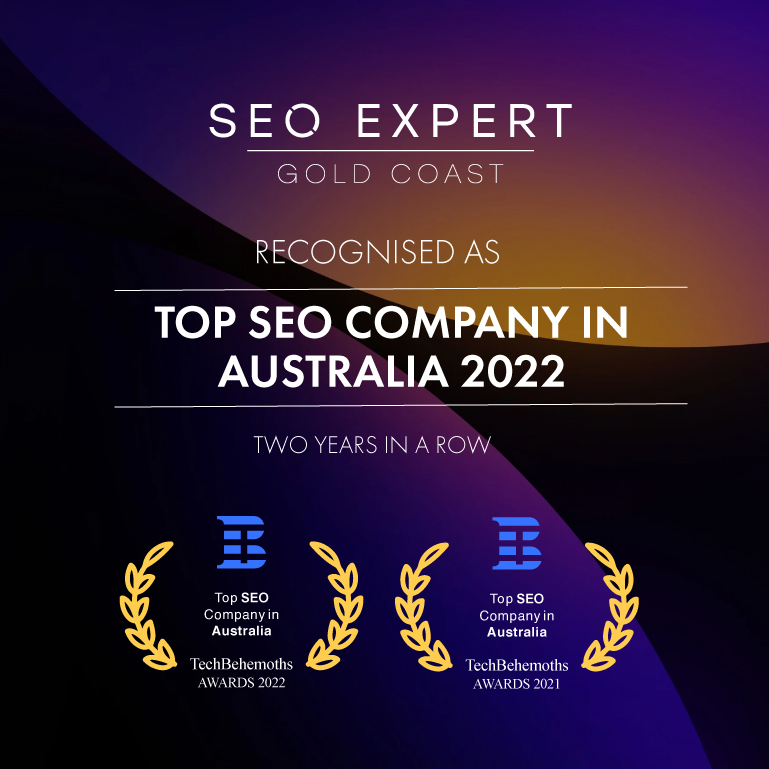 Uncategorised
Once again, SEO Expert Gold Coast takes the Tech Behemoths award for Best SEO Company in Australia, for the second year in a row. Tech Behemoths connects companies who require B2B services (like SEO). However, unlike other platforms that allow businesses to purchase their way to the top spot, Tech
Read More »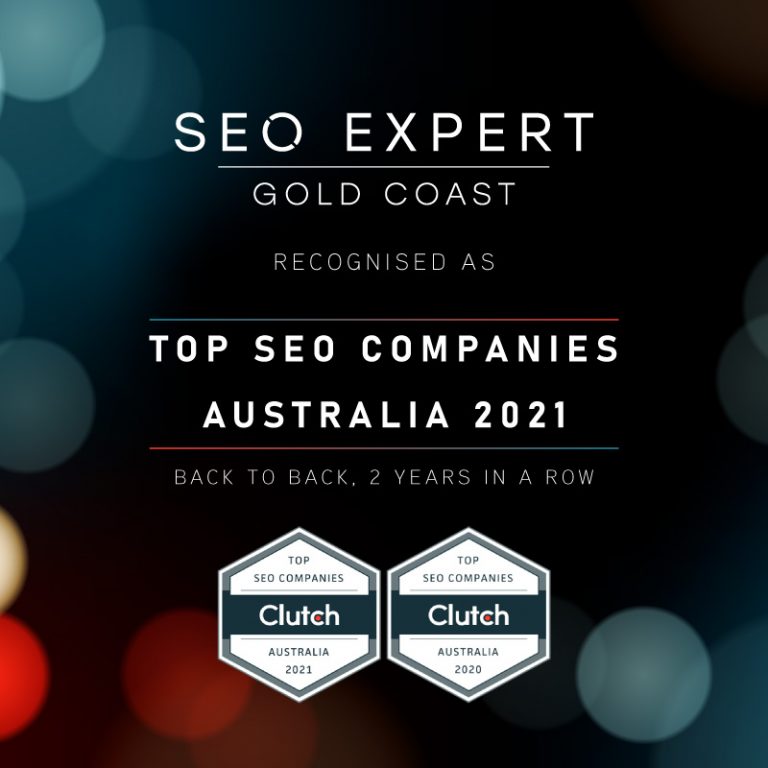 Search Engine Optimisation
For the second year in a row, SEO Expert Gold Coast earns a Clutch award for being one of the top SEO service providers in Australia. For those that need a refresher, Clutch is a resource for companies that need B2B services (such as SEO). This is because they're a
Read More »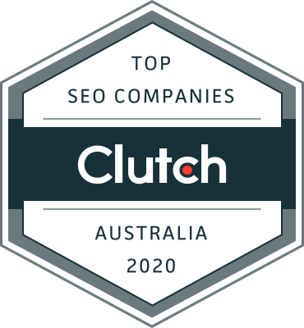 Search Engine Optimisation
SEO Expert Gold Coast is a Top B2B Company in Australia SEO is an ever changing industry, but it's also becoming more important than ever. If you're looking to improve your SEO, it's crucial to pick a partner you can trust! That's where we come in! We are excited to announce
Read More »
Frequently Asked

SEO Questions